* STOP PRESS *
c.d. release
from out of the
blue.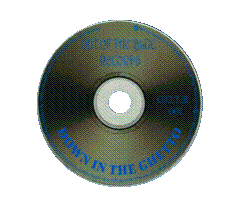 Remember the good old days of the label 'Out Of The Past', that always seemed to appear at the All-Nighter record bars? Well coming soon, hot off the press (so to speak) is a label that could well be it's soul-brother . . . 'OUT OF THE BLUE'.
I have been lucky enough to have the newly compiled CD, delivered straight from Out Of The Blue, and as you can see above from the tracks listed, it's well impressive. From what I understand, the CD is going to be limited to only 500 copies, priced at about £7 inc. p&p and should be with us very soon and like most good music compo's . . . it will not be available in the shops!
Musically, it's very well put together 'to-boot', containing many tracks previously never before seen on CD format. All tracks are in the slightly 'rare' sector of the music market, with many yet to receive the dance-floor reaction they deserve, which usually pushes the price of the vinyl up even more anyway . . . Dj's and dancers where are you? Forget your over-played 'oldies' (by now, the needle should be just about coming through the other side of your records!!), delve a little further than your Cornflake packet and be that little more adventurous with what you play.

JUST A SMALL SELECTION OF THE 45's INCLUDED ON THE COMPILATION CD . . . . FROM THE LATE 60s THROUGH TO THE EARLY 90s.
Brenda Starr's track, only three known copies of this brilliant crossover track from about '69 known so far. We are talking, like, why the hell isn't this being played?? It's better than that!!
Vanessa Williams' immortal instrumental version of the title track from the 'Gravy ad' LP. A very difficult 45 to obtain. A record that seems to flow, as if caught in a sudden refreshing breeze. Major cruising tune of the highest order, take me there!!
Ernie Johnson's everlasting (so it seems at 4min 30sec's long) 1978 class act 'Big Man Cry'. Forget the old carrot dangled by Ed Bruce, this is NOT the same record, this is S-O-U-L music of the highest caliber 70s style!
Betty J. White's so femme vocals just seem to have melted with time. An 80s record yet to be recognised by the so-called elite who continue to play outdated R&B splurge that sounds like, and has more in common with R&R.