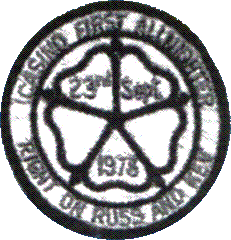 Wigan's first nighter badge
23 September 1973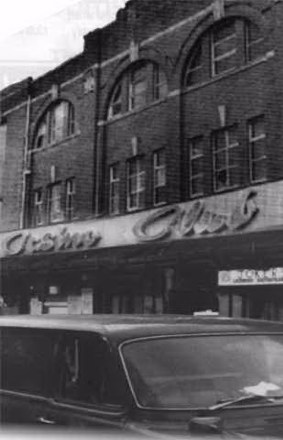 The old face of Wigan
Casino
In late '72 Billy Swain left The Brit and I got my first job there as DJ with a small box of records which I had been eagerley collecting since leaving school. I couldn't even cue a record in properly but I'd been buying about two imports a week for the past year and built up this little collection, so I started playing The Brit and the crowd remained. It was about this time that Alan Day became big name DJ and just before leaving Selectadisc he took me to the Torch for the first time, it was December 1972 and my first introduction to the real scene. The Torch was packed that night and my head was spinning, I didn't know half the records they played even though I thought I knew quite a bit. Then suddenly WOW The Younghearts 'A little togetherness', Just Brothers 'Sliced tomatoes', J.J. Barnes 'Please let me in', I'd never heard of any of them before and I thought it was wonderful. The next week I got the train which was a hell of a journey, we were there waiting at the door at 8 o'clock and from then on I was hooked.
Then I was offered three nights a week at The Brit and suddenly I was earning £45 a week which was great because it meant that now I could go to the Torch and afford to spend the £6 - £7 needed to buy the rarities which I couldn't afford before. When I took these records back to Nottingham it improved my reputation because I had the records that people wanted to hear but couldn't get locally, but soon the Torch got closed down, mainly for drugs, which was a shame because those were the best times of my youth, there was no pressure on me I was just a paying punter there for a good night out. After the Torch there were a few interim all-nighters, Troggs in Bolton, which had a very violent reputation, and then in August '73 I went to a Friday all-nighter at a club in Bolton called VaVa's where for the first time I met Richard Searling who was the resident DJ and Les Cockell the DJ from the Twisted Wheel who had a monstrous reputation. Richard S. as he was known had his own sounds, things like 'Tainted love' by Gloria Jones and some other things that we had never heard before, so he stuck in my mind.
And then six weeks later on September the 23rd whilst at Blackpool Mecca somebody said "we're going down to this new do at Wigan Casino". I said no, I'm not going, I had just become friendly with Colin Curtis and Ian Levine. I had previously been introduced to Simon Sousan who was in California and set up a deal to supply Selectadisc with records, he had started to send me piles of records. Suddenly I had things like 'Take away the pain stain' by Patti Austin which I took along to the Mecca and I think Ian raised his eyebrows as if to say "who's the new kid on the block". Anyway the rest of the kids went to the Casino that first night but I chose to give it a miss. Apparently there were about 400 in that first night and whilst most of my mates who went weren't over impressed with it, they vowed to give it another chance the following week. So next week after the Mecca the lads said "we're off to Wigan again Kev are you with us or not" to which I replied "oh alright then" so off I went to Wigan with my record box, which I took to show off with, it was September the 30th 1973 and as I walked in I thought "crikey, this is a big place". It looked like there were about 600 in that night and the place held 2,500. They were playing an awful lot of pressings, stuff out on Jay Boy etc. and I thought "this is crap" the Mecca has got the best rarities, which to be fair it did at that time.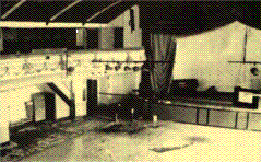 A view from the balcony.
A crazed dancer lept off the Casino balcony just to dance to Sandra Phillips "World without sunshine".
I had not met Russ Winstanley before and I remember a bunch of lads from Nottingham giving him a really hard time, "Have you got Patti Austin?", "Have you got 'Im gonna change' The Four Seasons?", "Have you got this, that, or the other?", and of course Russ was saying no. So somebody said "Well why don't you put on somebody who has?", "Like who?", was the reply. It was then that I got shoved to the front and Russ said "Who are you?" "Kev Roberts" I said, "and I'm from Nottingham". Anyway he put me on and thanks to the helpful enthusiasm of my crowd from the East Midlands I went down well. I must have made the right impression because Russ said "Do you want to work here every week?", so I said "Yeah".