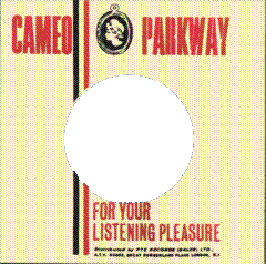 THE CLASSIC SLEEVE
Probably due to a sudden transfer of companies, Chubby Checker's 'Dancin' party' also appeared on Pye Int. 25160. It was the only Cameo-Parkway record to appear on the Pye Int. label, just a stop-gap before they had their own label, Cameo-Parkway (UK).
The UK was graced with the Cameo-Parkway label late on in 1962 / early '63. As they did with a lot of their US labels, Pye gave their UK release the same numbers as the US catalogue. This might have been a simple means for the company then, but nowadays when it comes to sorting out what came out, it can prove to be difficult. However, there were two basic numbering systems used here, the US Cameo releases had a C prefix, while the US Parkway releases had a P prefix. It got a little more complicated later on, more of that later. Basically, the series started with Bobby Rydell C 228, and the Dovells with P 845. There were 5 other releases with earlier numbers than these, but were likely to be re-issues or just back-catalogue records. Chubby Checker had a re-issue with 'Let's twist again' / 'The twist' on P 824, although of course, there's no US equivalent.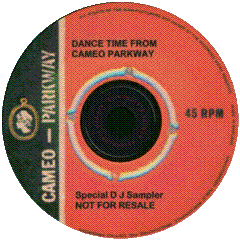 A WELL PUT TOGETHER
(BOOTLEG) C.D. CONTAINING
TOO MANY GOOD TRACKS . . . . .

ORLONS - THE WAH WATUSI

TYMES - HERE SHE COMES

JOE GRAVES - DEBBIE

BOBBY PARIS - NIGHT OWL

EVIE SANDS - PICTURE ME GONE

BUNNY SIGLER - FOLLOW YOUR HEART

CHRISTINE COOPER - HEARTACHES AWAY MY BOY

CHUBBY CHECKER - YOU DON'T KNOW

VICKIE BAINS - COUNTRY GIRL

THE ORLONS - ENVY

EDDIE HOLMAN - EDDIE'S MY NAME

THE OLYMPICS - GOOD THINGS

JOHNNY MAESTRO - HEARTBURN

BUNNY SIGLER - LET THE GOOD TIMES ROLL

CHUBBY CHECKER - AT THE DISCOTHEQUE

CANDY & THE KISSES - THE 81

JANIE GRANT - MY HEART YOUR HEART

D. D. SHARP - STANDING IN THE NEED OF LOVE

BUNNY SIGLER - GIRL DON'T MAKE ME WAIT

YVONNE BAKER - YOU DIDN'T SAY A WORD

CHUBBY CHECKER - CU MA LA BE-STAY

MIKE FINNIGAN - BREAD AND WATER

NIKKI BLU - I LOVE HIM SO

THE ORLONS - I AIN'T COMIN' BACK

CHRISTINE COOPER - S.O.S. HEART IN DISTRESS

CHUBBY CHECKER - EVERYTHING'S WRONG

D. D. SHARP - THERE AIN'T NOTHING I WOULDN'T DO

BEN ZINE - VILLAGE OF TEARS

CHUBBY CHECKER - LOOKING AT TOMORROW
A GREAT CD CONTAINING SOME
GREAT CLASSICS !!!
Regarding the rarer soul releases, it wasn't until the end of '64 that we saw Candy and the Kisses with the great 'The 81'. Written by Gamble / Ross, it's very much borrowed from 'In my lonely room' by Martha and the Vandellas, but what's wrong with that? Very much in the Vandellas style, a rousing uptempo record that will long be collectable. Like many of the Cameo-Parkway records, it's either ordinary and fairly easy to pick up, or else, great and hard to find. However, nothing gives more pleasure when piling through piles of old records than finding that beautifully designed red and black label with the Cameo-Parkway heading on it's side in the black part, along with the cameo head. Not that much different from the US Cameo design from 1960 / 61 to the middle of '67. The main difference of course being the addition of the word Parkway.
Around the same time as Candy and the Kisses, comes another great release. This time it's the Tymes with 'Here she comes'. Different from most of their early releases, this one is a dancer, whereas the others tended to be sweet sounding and in some cases, rather dull. Really, 'Here she comes' is simular to their early records only they have started to move with the times, as Motown by now was becoming big business and the dancers were becoming the norm. The Tymes also had an LP released here, pretty obscure as Cameo-Parkway released very few LPs here. Only one other of note was the Orlons with 'All their hits', basically some of their own hits along with those of the Crystals, Little Eva, Four Seasons etc.
Just after this, Chubby Checker released one of the first of his more collectable singles, a B side called 'The weekend's here'. From here on, all his records were worth having. The next one, 'At the discotheque' followed on his dance- craze style, although little did he realise the effect it would have in the UK years later. It could be considered one of the first big sounds on the rare soul scene, as it was then. It was the sound that people really wanted, on UK or US, and was very difficult to find. This was in the days when people were pretty niave about records, before imports were common and so prices on records like this were quite high.
His next release was equally good although not as collectable. It was 'Everything's wrong' / 'Cu ma la be-stay', the latter being a revamp of an old classic. However, the next single was destined to become a real gem. Always wanted, but not as much as 'Discotheque' in the early days, it was the B side of 'Two hearts make one love', and is 'You just don't know'. This was believed to have only ever been out in the UK. I've been told that it was actually recorded in London on one of his trips to this country, although, I don't know for sure. However, that might have been the reason why it's so rare on US Parkway, only one or two demos known to exist. His final record over here was 'Hey you little boogaloo', okay as far as it goes, but nothing worth shouting about.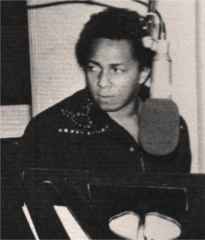 BUNNY SIGLER
There were only three other US Parkway releases over here, Eddie Holman's 'This can't be true' / 'A free country'. The A side is a beautiful slow song, while the flip is a rather dated dancer. Next was Len Barry with 'Hearts are trump'. Len was formally with the Dovells until splitting to go solo, recording just one other record before this one, which was a pleasant enough dancer. Of course, Len later went on to Decca (UK Brunswick) with several big hits.
Lastly was an exteremly popular record with a medley of 'Let the good times roll' / 'Feels so good', by Bunny Sigler. This was amongst the last of the Cameo-Parkway releases over here, and as such I've never seen any demo copies of this one. Whether it was because they weren't getting many sales or because it was a rush release, I'm not sure but I've had several copies with the date of issue stamped on an ordinary issue copy.
The above were all US Parkway releases and therefore carried the P prefix. The following were all Cameo recordings and so have the C prefix.