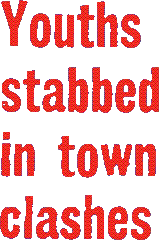 TWO YOUTHS were stabbed and taken to hospital with punctured lungs in incidents within half an hour of each other in Wigan town centre.
One involved a clash between punk rockers and soul music fans.
A police spokesman said: "We are investigating to see if there is a link between the two incidents".
In the first incident early yesterday, David Wood, aged 18, of Cavendish Drive, Winstanley, Wigan, was walking down Wallgate, Wigan when he was accosted by three youths aged between 18 and 20, one wearing a leather jacket. He was stabbed under the right armpit.
The second incident occurred as hordes of punk fans left the Wigan Casino Club and clashed with soul fans who were arriving for the "all-nighter."
During the fracas involving about 20 youths, Bernard McMahon, aged 17, of Baucher Road, Worsley Mesnes, Wigan, was also stabbed - possibly with a flick knife. The man sought by police may be from the St. Helens area and is described as being about 20, of heavy build with black hair, spiked on top in the punk rocker style.
The assailant was wearing black drain-pipe trousers and waistcoats.
Both youths were said at Wigan Infirmary today to be "satisfactory".
I was recently involved in the troubles at 'Wigan Casino' on the night the 'Sex Pistols' were appearing. On the night in question I was dressed in what could be described as Mecca / Punk type dress and I'm sure this was the main reason for my being attacked and beaten up by so called Northern Soul fans.
I myself was 'into' Northern Soul for two years and enjoyed every minute of it, but as the scene changed and Ian started playing 'Modern Disco Music' I realised what a lot of rubbish most of the 'Stompers' were.
It was at the 'Mecca' I was turned on to the brilliant sound of New Wave Music 'The Stranglers' and 'The Pistols' being my personal favourites, but I still found time for New York Disco Music and as my love for both types of music grew I realised that all the years of listening to stompers were a complete waste of time and money and I have now disposed of my pressings at a give-away price as in my opinion they are worthless possessions and invested the money in 'New Wave' Album.
Back to the night though, the 'Stompers' were waiting to go into the All-nighter and as I and my friends come out there was a feeling of hatred running through the air. We were followed to the car park were there started a battle with people throwing objects (bricks, cans and even hubcaps) across the cars. It was as I crouched behind a car I was attacked, two thugs in baggy pants and leather bomber jackets viciously kicked and punched me. I screamed for mercy but one of them said "Shut your fucking mouth you freaky get" and continued till they were chased off by my friend and 2 other New Wave fans from Wythenshawe although I didn't get their names I would like to thank them.
It appears that on the night 2 Northern Soul fans had been stabbed of course this would cause anger but it had nothing to do with me.
This made me finally realise that Northern Soul is for mindless idiots and if they let other people enjoy other types of music without attacking them all well and good, otherwise if they can't they should be locked up with the animals in the zoo.
At this gentlemans request his name and address is witheld. I of course agree with some of his comments and strongly disagree with others.
What do you think? Drop me a line and let me know I would be grateful if anyone who was there on the night could write and let me know what happened from their point of view.
In reply to the Punk's letter above, here is the best reply in the 'Soul Time Gang' opinion:-
Jackie Green, Burnley.
After reading the letter off the Mecca / Punk fan, I felt I had to write to put the record straight. First off, I have been going to 'Wigan' for three years regularly and have never seen an open act of violence once. These 'punks' come along for a few weeks and what happens? Two blokes end up in hospital with punctured lungs, a doorman is sent home with a gashed eye and 100s more injured.
I was there on the night in question and when they came out of the 'Casino' armed with bottles and glasses it proved that trouble had been pre-arranged.
Being a lady stomper and not looking too graceful with a 'shiner' as another girl copped off a bloke, I decided to shift and rapid like. But I was helped into the road by a helping Punk hand who threw my 'all-nighter' case behind me, how kind!
Four others were setting about another lad after his records, for something described as worthless possessions they were fighting hard to get them. This was followed by scores of scuffles and running battles.
So don't expect me to listen to the pathetic views of these animals.
I was not biased before the incident as I thought everybody had their own tastes, but after that night I came to hte conclusion that we, just like the punks, do not belong in the zoo. Caging is too good for them, hanging is perfect.